Our page of teaching modules now includes a fun and simple activity for younger students, a scavenger hunt!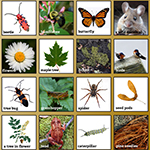 Even in urban areas, small animals, insects and plants are common. A tiny school garden or park can be enough to introduce younger students to basic ecological concepts. This activity is targeted at grades K-4, but it could be used as a fun introduction to the BioB's field survey for older students. The items on the worksheets are connected by concepts of food webs, pollination, seed dispersal, metamorphosis, and seasonal changes.
I must give credit for this idea to my son's kindergarten teacher, Jessica Beers. She organized a hike of twenty-something kindergarteners (and some supportive grown-ups, like myself) up a local forested hill this September. The kids had a blast finding the things on their worksheet, and while it was often high energy, it was a unique opportunity to reinforce the basic biology concepts that had seen in their classroom. This activity provides  a slightly insect-centered spin on the scavenger hunt, and it also relies more on organisms that  will be common in a range of settings, urban and rural, across the eastern US.